Redbank Northern Territory
Pathway to unlocking an economic copper resource in a major underexplored metal rich basin
The Redbank Project is located in the east McArthur Basin and spans an area from the Northern Territory/Queensland border west towards Glencore's McArthur Mine.
In 2019, new management were appointed by shareholders to restart exploration.
In 2020, NT Minerals completed re-assaying over 4,000 historical drill core and pulp samples from approximately 25,000m of diamond drill core stored at the Redbank Exploration Camp. This work was critical to validate historic assays, some going back to 1970 when Newmont Ltd first discovered multiple copper mineralised breccia pipes within a small area of the Redbank Project.
In July 2020, NT Minerals extended the size of the Project area to 13,184 km2 and secured a district scale tenement holding by pegging open ground following work by Geoscience Australia.
An important compliance milestone was reached in June 2021 with the JORC 2012 Mineral Resource Estimate completed for the Project, which validates the mineralised potential of the region and lays a solid foundation for the Company's exploration program.
A limited maiden percussion drilling program in 2021 tested several high priority copper targets. Significant work was completed to develop new foundation datasets including airborne and ground geophysics, diamond drilling and regional soil sampling.
The work completed in 2021 has fed into a program of a new round of percussion drilling to investigate a large regional conductive airborne anomaly proximal to the historical Redbank mining centre and anomalous multielement geochemistry at Calvert South.
Successful regional soils programs are ongoing in 2022 to build, year on year, new datasets for future exploration.
Please click on the prospect areas above to view maps for that prospect.
JORC 2012 Mineral Resource Estimate (MRE)
In June, Entech Pty Ltd completed an inferred MRE for 7 breccia pipe hosted copper deposits at the Redbank Project of 8.4Mt @ 1.1% Cu at a 0.3% Cu cut-off for 88,600 tonnes of contained copper.
For further details please refer to ASX announcement on 24 June 2021
Current Exploration Strategy
NT Minerals continues to advance exploration across its extensive McArthur Basin portfolio with a clear focus on identifying a suite of high-quality drill targets for our maiden drilling program this year. Indications from geophysical surveying completed in and around the Bluff deposit are highly encouraging with multiple discrete and unexplained high-order chargeability anomalies identified for drilling.
In addition to undertaking Gradient Array IP (GAIP) and Dipole-Dipole Induced Polarization (DDIP) ground geophysical surveys, NT Minerals is utilising airborne Electro Magnet (EM) surveys, passive ground based Magneto Telluric (MT) survey and a soil sampling team to collect regional grid soil samples.
Updates on these work streams are reported at regular intervals and can be viewed in the ASX announcements section in the Investor & Media section.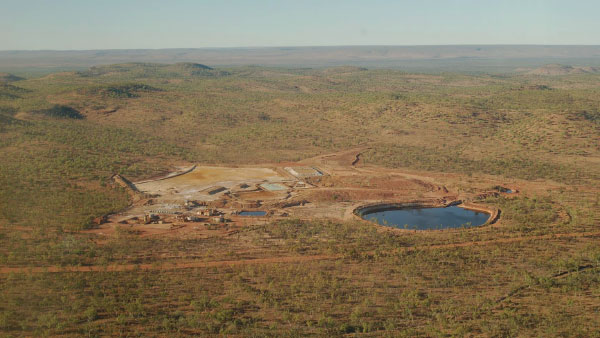 The Redbank Project history commences with Bill Masterton in 1916 but has had limited exploration from 2006 to 2015 and none until November 2019.
Recognising the potential of the unloved and undervalued resource, the company investigated over 60 years of exploration data, reports and over 25,000m of core with the potential to expand the current resource. Historical work has focused on detecting or investigating the known breccia pipes, with much of the work conducted over a relatively small area of historical tenure (ERL94).
Only limited drilling has tested to depths beyond 250m, with drilling unable to determine the depth extent of the breccia pipes.
Known copper mineralisation is hosted within vertically oriented breccia pipes, that are open at depth often ending in copper mineralisation in historic drilling. The source of the copper which was transported into the pre-existing breccia pipes has long been speculated by geologists. The remoteness of the region, sporadic limited drilling and tenement holdings by small, poorly funded explorers has inhibited exploration using modern techniques.
Insights from the work completed by Geoscience Australia and previous work by oil and gas explorers has provided the Company's exploration team with important insights into the reasons why copper is present at such high grades within the Redbank Deposit breccia pipes. An improved understanding of sediment hosted copper deposits and new exploration technology is beginning to unlock the copper potential of sedimentary basins.
driven by the value within
Mining Management Plans – Exploration Activities
Project Name
Covering Titles
View Document
Sandy Flat TSF Project
ELR94
EL31316
MLN634
MLN635
View >
Redbank Operations PL – GDC Statigraphic Drillhole Proposal
ELR94
View >
GDC Stratigraphic Drillhole Proposal
ELR94
MLN635
EL32715
View >
Bluff Extended
ELR94
EL31316
EL32715
View >
Bluff Extended
EL32715
View >
Bluff Extended
EL32469
EL32471
EL32323
EL32325
View >